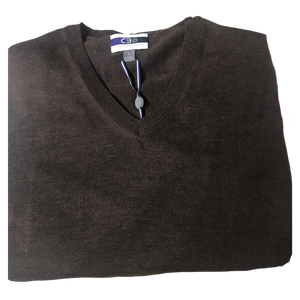 Taupe V-Neck Merino Wool Sweater C3 Natural Performance
Regular price $125.00 $80.00 Sale
Our classic V-neck sweater is built to layer and ready for cooler weather. Thomas Dean Co. uses only 100% extra fine wool to create our sweaters. The result is a soft, close fit, lightweight sweater.
Style Details:
o V Neck Stretch Sweater
o Fully Fashion with Ribbed Hem and Cuff
o Jersey Body Construction
o 65% Merino Wool 35% Polyester with C3 Performance
o CK5A18-705
C3 NATURAL PERFORMANCE FABRICS – CORE CONTROL COMFORT©
By using the best technology in activewear to create a sportswear collection, Thomas Dean has designed clothes that could withstand the rigor of work and daily life while maintaining the ideal core control comfort© and look great at the same time.

In style, the ultimate luxury is Comfort!